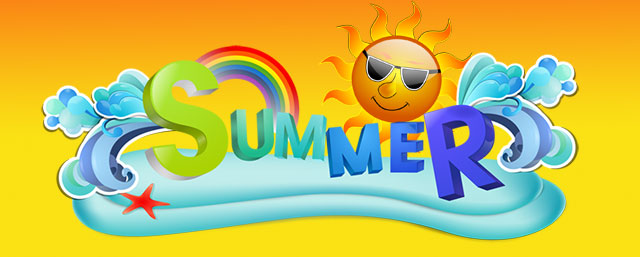 Monday, July 10, 2017
Greetings,
We hope you had a fantastic weekend as we come upon the third-week of summer school. Friday's fun in the "sun" was a blast! The students tossed water balloons, enjoyed Otter pops to cool down, blew bubbles galore, played beach-ball volley ball, paddle ball, whiffle ball, football, and used tubes and connectors to build structures. There was no lawn to fill up the pool or drainage for it; thus, we improvised and used the water hose to "shower" water down on the students! It was such an enjoyable time for the teachers and students alike! "The age of innocence!" 😊
FIELDTRIP TO THE DUCK POND ~ CAR SEATS/BOOSTER SEATS:
Students will need their car seats for Friday's fieldtrip. Your child's name should be visibly written on his/her seat! Without the car seat, we will NOT transport your child, and you will be called to pick him/her up from school. These precautions are taken for the safety of all our students as well as not placing the driver at a liability risk. Please leave the car seats along the wall next to your child's room.
DRIVERS:
We are still in need of drivers for Friday. If you can drive, please sign-up before THURSDAY afternoon. We will leave the school at 9:30 AM and will need to be picked up by 2:30 PM. We will return to school by 3:00 p.m. If your child is NOT in daycare, he/she will need to be picked up by 3:15 p.m.
DRIVER'S INFORMATION:
If you are planning to drive, BEFORE Friday, please make sure that all necessary paperwork on file is current. Fridays are very hectic for the teachers as we are ensuring we have emergency cards for all students, lunches, needed car seats, passing out nametags, and many more details that we won't "bore" you with!
NOT ATTENDING FIELDTRIP:
If your child will be absent on Friday, please let the teacher know as soon as possible; this allows us to know how many drivers will be needed.
FRIDAY, July 14
Students WILL NOT need:
a backpack (Unless your child's teacher requests backpacks on Fridays.)

special folder

lunch box
FIELDTRIP LUNCHES:
Children will need to bring their lunches in a paper or plastic bag. NO Tupperware or lunchboxes please. Children are excited and tend not to eat a large lunch. Therefore, try not to over pack one, as we throw away everything after we eat. NO LUNCHABLES or chocolate please! Lunchables are messy and difficulty for students to manage and chocolates melt in the heat! Boxed juice or Capri drinks work well. NO soda or glass-bottled drinks. We have had a major problem with bees at most fieldtrip site and have found that meatless lunches do not attract bees. We suggest peanut butter and jelly sandwiches, cheese and crackers, yogurt, etc.
Sunscreen:
Since all the fieldtrips require your child to be exposed to the sun for several hours, please protect your child from sunburns by applying sunscreen.
MORE PROTECTION FROM THE SUN:
Visors and hats help to protect skin from sun burn. PLEASE label! LABELED outerwear helps teachers return article of clothing to rightful owner.
DAYCARE SNACK:
If you would like to purchase 100% fruit juice popsicles or fresh fruit for our daycare program, each $10 spent earns one service hour. Save your receipts and WRITE your child's name at the top and send them into your child's teacher.
TEACHERS' WORK DAYS:
Make plans now for childcare during the month of August. There will be no DAYCARE for our new full-time kindergartners and those first graders who are considered "full-time" on Thursday, August 17, and Friday, August 18. Preschool teachers will be using these two days to prepare for the 2017/2018 school year.
MONDAY, AUGUST 21:
There will be no school or daycare for FULL-TIME KINDERGARTNERS OR PRESCHOOLERS.
TUESDAY, AUGUST 22:
First day of school with a noontime dismissal.
If you have any questions, please come in and speak with your child's teacher after school.
Have a great week!